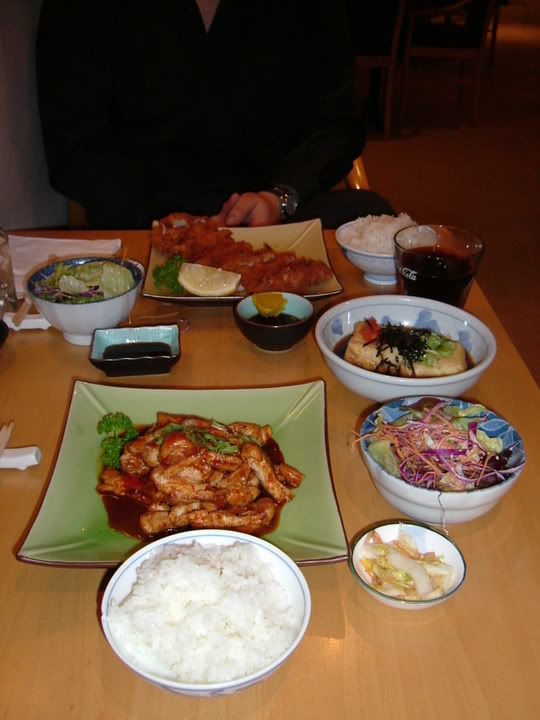 Yea...Eddy visited to Brisbane and was on business trip like last time again. This time he will be in Brisbane for 5 days...He gave me a call once he reached Brisbane airport on Monday (19 Sept). Just after his work on Friday(23 Sept), he immediately came to my house, driving the same car(Toyota Avalon - powerful family car), rented from Avis by his company. As usual, we hugged each other when we met each other...what a warmth hugging...haha!
We simply chose a Japanese restaurant in Brisbane CBD(Central Business District) for our memorial dinner. This was my first ever Japanese food i had in Aussie...The restaurant is quite nice in decoration, the chefs have their own teppanyaki's showdesk to perform for the customers...! We have ordered Tori Katsu(Fried Crisp Chicken with bread crumps), Miso Spicy Chicken, Fried Tofu. The food was nice but we have spent $14(around RM42) for only 5 bowls of rice...gosh...haha...! Although Eddy paid the bill, but i still have to thank him very much. While having dinner, he told me his experiences that he had and learned here for almost 10 years! He clearly explained to me all I have to do being a student! Every single words are very precious and imperative for my future. Just after the dinner, i treated him back with Hot chocolate at The Coffee Club. I got myself a White Hot Chocolate...yeah!
Overall, I still very touched that he visited me twice in 2 months....and willing to spend his limited time with me...he is really care about me like his own brother, thanks mate. I will definitely visit you in Perth one day...hehe...till then, Cheers!