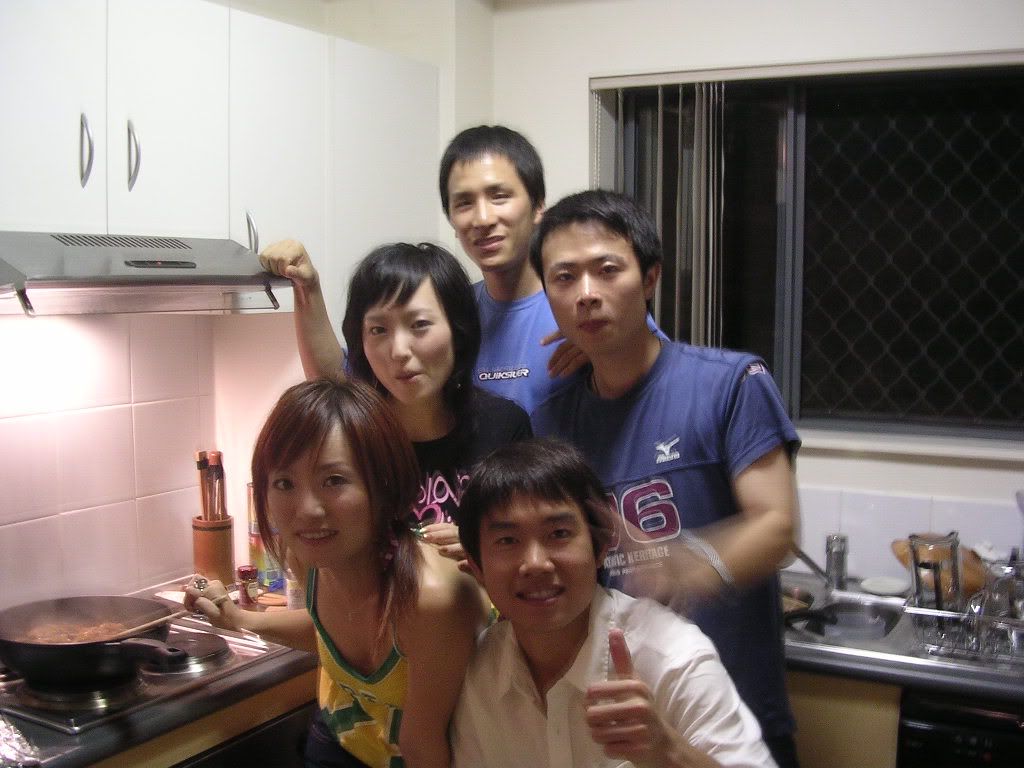 Yeah....its one of my favourite day, Saturday, in my opinion, people can use this day to get themselves relax for a while after a tiring week. Of course, not too relaxing become laziness. Just let ourselves have a deep breath. This is quite a happening day for me as Julian (Korean housemate) brought me to China Town & Brisbane CBD. We had our lunch there and get some food supplies. I will attach some photos taken in China Town and city later...just stay tune....!!
After finish buying food and had our 'window-shopping', we straight headed back to our house. When we get down from the bus stop nearby our house, we immediately rushed to our own rooms, and get ourselves changed to join the people playing soccer just infront of my house.
We finished our game at around 5.45pm, quickly take shower and changed into clean clothes. Around 6pm, Julian brought me together to his friend's house to have dinner and 'drinks'...hehe! As you can see at the 1st pic, all of them are international students....2 girls from Korea, the upper centre with blue shirt is my Korean housemate, lower centre is from Thailand and the other guy is from China. They are studying English language in UQ Language Centre. Me? I'm the one taking photo...haha! We had some Korean food and snacks like Tou-Poukei and Pruege(beef)....nice! Its drinking time,wahaha....i managed to get myself a Vodka Lime Cordial...yeah...! I found that a liquor called Kahlua...mixed with milk...Yes..milk, the taste is like a ice-coffee...really impressive. We spent our time chatting, playing some games and watching movie.
Today is like a total relaxing day for me. I really need a full-day off as having quite some busy weeks....but have to back on track to study and do my assignment by tmr although i am having a so called 'holiday break',haha....Okie...gotta stop here...cya guys...!