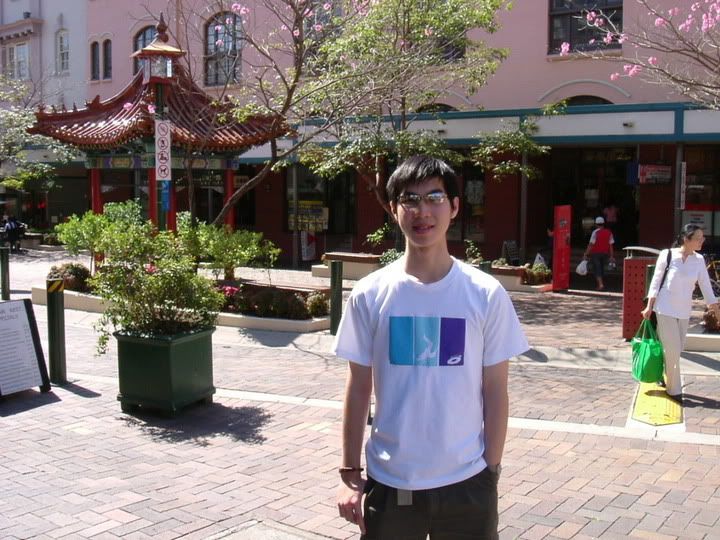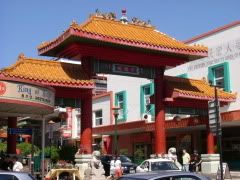 Time flies by~~ Its 11.50pm here...Sleepy..-_- Tomorrow(18th Sept) will be my 2nd months in Australia...Wah...so fast...really freaks me off...Life? Of coz its as usual as wht a student have to do...study,doing lab reports,assignments,relax,sleep and EAT(Important for me).As i know, some of my UCSI friends ald arrived at Wolverhampton,UK by this morning...Hope they can enjoy spending their life there while study! Wish them best of luck,mates..!
Those pics i attached above were taken in China Town in Brisbane City which is called Valley.My Korean housemate brought me there together! It can be accessible via 2 bus rides from my living area (St. Lucia).A few Asian food based chain markets that is called Yuen's Market is my regular place to get my stock in..hehe!!There got lots of Asian restaurants such as Chinese,Vietnam,Jap,Korean,Thai and Malay restaurants as well. The food is nice but yet very expensive...T_T! During Eddy(refer to earlier blog for more info)'s trip to Brisbane, we had both our lunch and dinner at one of the Chinese restaurant and Korean restaurant. Thanks again for his treat and visit to me! I really thank him from my bottom of my heart.The moon outthere is really round,tomorrow will be Mooncake Fest according to Chinese Calendar(八月十五中秋节)! I managed to see some mooncakes here but it cost about $30(RM90) per box which contains 4 mooncakes! Gosh..luckily i'm not a big fan of mooncakes as its too sweet for me.Thus, ended up without buying them...save money on other food,hehe!
My mum juz gave me a call this afternoon, saying that my cousin(Main "pighead") and other group of frens ald arrived at Wolverhampton safely. Good then. I told her that i'm boring overhere, then she said:"This is the life of being a student, must try ur best no matter wht in order to succeed. Hard works will be proven one day!Just manage ur timetable and keep things going on!" Yea, she is totally right, i must BEAR everything and just can have a great time when coming back M'sia then.By the time, she said i can play and eat as much as i can! Wahaha...FOOD...I'm looking forward them!
So, gotta end here as it is 8 minutes past 12! Sleepy...Cya!
I have enclosed a link to the pictures taken during Ekka Day here,please have a look!

Ekka Day's Pictures