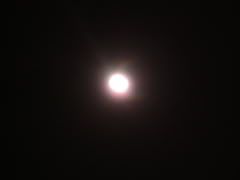 Yoo...just finished playing soccer...tired...and its time for dinner again, still thinking what kind of food to cook...!! Its good that all my friends are fine in Wolverhampton and Hull. My dear cousin
- Main('Pighead' :-p) already got back her luggages, luckily oo..!
Hmm...this year's mooncake fest was quite normal and yet special to me..haha...as i had it here in oversea. I didn't buy mooncakes here...:-( ...its $30(RM90) per box...haiz...nevermind, i will sure buy it next yr with my own pocket money earned from working...! Anyway, that's more than enough as i had a call from family...saying that they were having mooncakes and relaxing outside the house...they hoped i could be there together! I told them i will be there with all of you one day...hehe!! Thx dad n mum....wish all of you in healthy shape all the time! I miss all of you and FOOD...;-) as well...It is mid autumn festival for Korea also...according to my Korean housemate...he said all the families in Korea will be gathering together and have some autumn food,fruits....hehe...almost the same as what we Chinese do....
Okie...Its 6.40pm here. Till my next blog, cya...Cheers!!